Construction Specification White Papers
RIB's manufacturer solutions help you secure specification by making the product selection and specification process easier and faster. Separate your company from the competition with a connected, digital experience through RIB.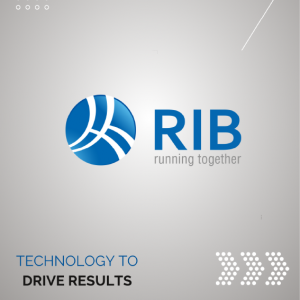 Being specified is one thing. Knowing about it immediately is entirely different. RIB's proprietary reporting tool SpecLive shows how your products in RIB SpecLink are performing with architects, designers, engineers and owners who use the industry's most comprehensive specification software to create their specs. Available 24/7.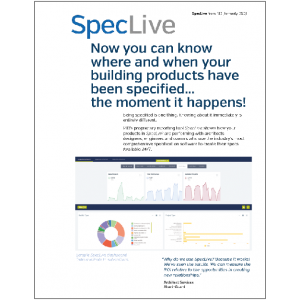 RIB former specification expert Chip Bullock talks to AEC professionals daily about the challenges they face as they strive to achieve more efficient workflows, embrace digital technologies, and save both time and money on specifications. Bullock thoroughly understands these challenges from the architect's perspective, and shares the answers to some of those most frequent questions.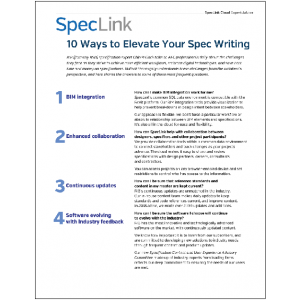 The days of being restricted to word processing files are truly over. SpecLink Cloud allows you to harness the power of the most innovative specification-writing platform on the market.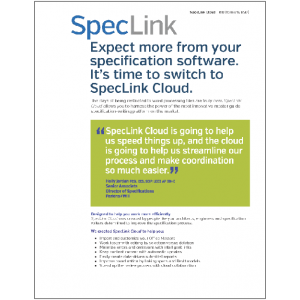 Arm your internal designers, outside consultants and facilities management team with up-to-date building information from a consolidated source for consistent, efficient project planning.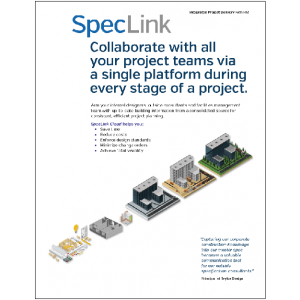 Save time. Save money. Revolutionize the way you work. Access best-in-class commercial Canadian content via the cloud.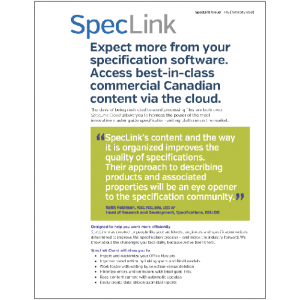 RIB's best-in-class content has been harmonized with the Canadian Construction Documents Committee (CCDC) documents, construction industry standards, terms and CSC's best specifying practices, including consistent imperative mood language throughout.
To better understand how to align specifications with models, this document proposes that firms manage data standards for content at the organizational level, rather than at the project level.