Click on the case study to download a pdf
Building Product Manufacturer
Spotlight on RIB SpecLink's partnership with Raynor Garage Doors and their notable role in supporting the San Francisco firefighters.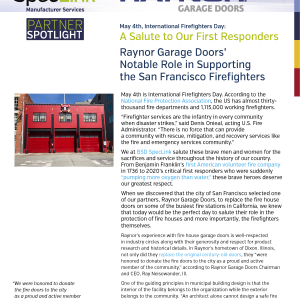 Building Product Manufacturer
FreeAxez added RIB SpecLink to their arsenal to increase their visibility and inform the industry on their truly unique product offering.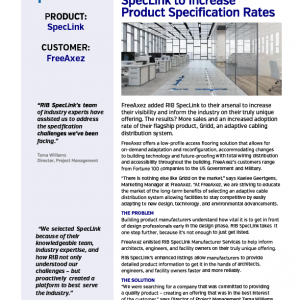 Architecture
The renowned architecture and design firm adds SpecLink to their arsenal of cutting-edge tools to remain at the leading edge of innovation.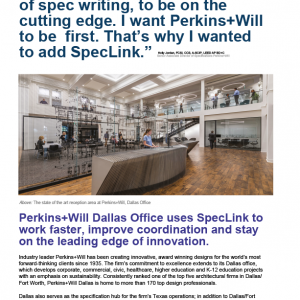 Architecture and engineering
Error and omissions common to previous methods used by TRO were significantly cut down as a result of SpecLink's easy to understand system.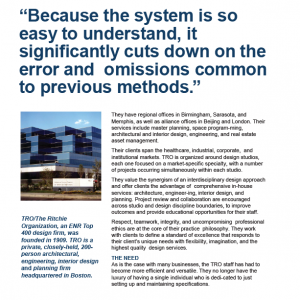 Architecture
RIB SpecLink helped WHR custom tailor an office master to address the issues of the company's primary building type (health care) while maintaining a "memory" of decisions within the office master.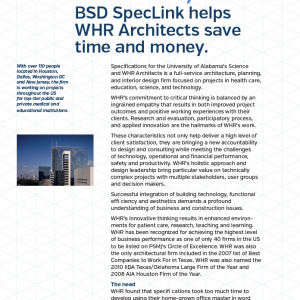 Building owner
For consistency across facilities, Spectrum Health uses SpecLink to save time and create professional design standards and specs.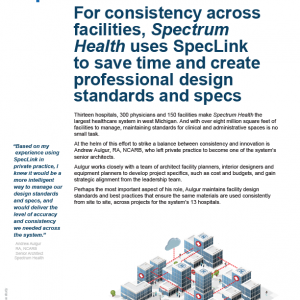 Architecture
SpecLink gave WBA the ability to seamlessly assimilate a tremendous amount of client specific requirements, standards, procedures, and preferences.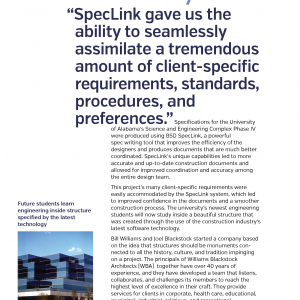 Architecture and engineering
Achieving a 'Gold' standard in 'Green' design was possible with SpecLink.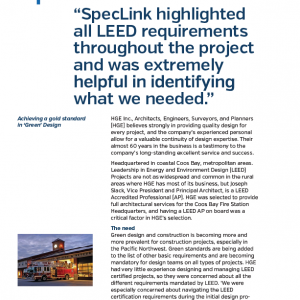 Architecture
With SpecLink James Goodman Architecture was able to bring specification writing in house and establish better coordination of the specification content with the drawings.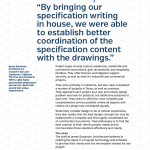 Engineering
Bringing SpecLink technology on board helped Applied Engineering Services deliver on their pledge to customers.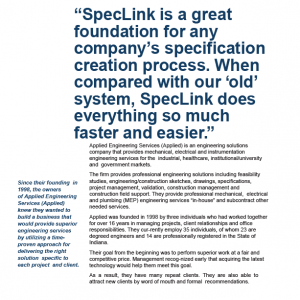 Architecture
Construction administration was simplified with SpecLink, for Saratoga Associates that alone made a huge difference in how long it took to produce specifications.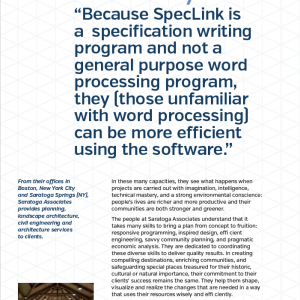 Architecture
SpecLink updated their specs automatically and painlessly without disruption; reduced errors and omissions; simplified sustainable design certification; and helped them transition seamlessly from schematic to design development, using the same database.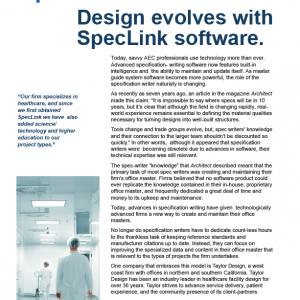 Building Product Manufacturer
Behr Paint improved their specification rates and visibility with RIB SpecLink.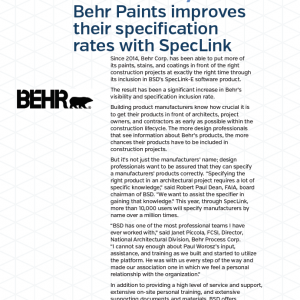 Architecture
With eight office locations, each office was working in slightly different ways. RIB SpecLink allows project teams across the company to develop specifications the same way, using the same tools, while producing similar results.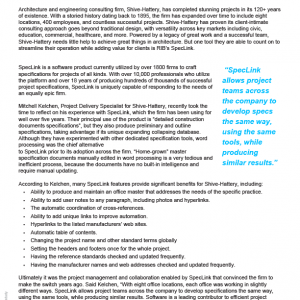 Architecture
SpecLink turned out to be the "missing link" in Lord, Aeck and Sargent's process; providing a large number of ready-to-use specifications in an automated, intelligent database.